Suntek paint protection film is the smartest way to protect your new vehicle. Providing optical clarity, Suntek clear bra acts as an invisible shield blocking your car from harmful elements, such as rocks and road salt. Check out our Facebook page for Suntek photos and videos.
The application process and final result can be seen on a 2014 Jeep Grand Cherokee in the pictures below: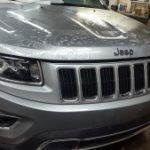 Suntek paint protection film being applied to the front end of a Jeep Cherokee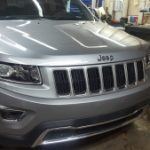 Suntek paint protection film set and dry
This 2014 Jeep Grand Cherokee had the partial front end protected. This includes:
partial hood
partial fenders
headlights
fog lamps
bumper
Once Suntek paint protection film has dried, it is difficult to detect where the film starts and stops, making it truly invisible! This paint protection film will maintain it's clarity and won't fade or turn yellow.
Because the film is self healing, any bumps or scrapes picked up along the way can easily disappear with the application on heat. The film is so strong that not even a wire brush could leave a permanent scratch!
We took a wire brush to a protected Dodge Caravan and then applied heat to make the scratches disappear! As you can see, it only takes seconds for Suntek to self heal.
Here at Splashes, we do Suntek installation right here at the shop. Besides the partial front end, we can protect just about any painted part of your vehicle. For example: areas such as the door cups (the area right underneath the door handle) which are easily scratched by constant hand traffic, can be protected. More information on Suntek can be found here.
If you have any questions or would like a quote, feel free to give us a call at 604-265-6059.