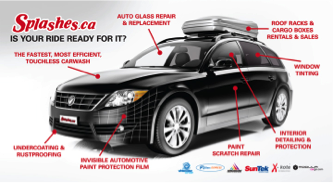 Dad. To know him is to love him. However, for many of us, to know him is to know that he is THE hardest person to shop for. This becomes especially evident during the month of June when we are faced with a holiday that is all.about.dad: Father's Day.
Are you stressed out thinking about what to get dad for his big Sunday? No worries; the team at Splashes has got you covered. We know that Father's Day is the perfect time to give dad gift cards/e-gift cards to the Splashes facility here in Surrey.
Dad Will Love His Splashes Gift Card For Many Reasons
Why does a Splashes gift card make the perfect way to show dad how much you care? The reasons include:
One-size-fits-all: Not quite sure how to shop for clothes for your father? It's a challenge many of us face. Fortunately, a gift card eliminates the need to know all of dad's size preferences. He'll love a one-size-fits-all gift card to our facility.
Any value denomination: Having a tough time finding a present that will work with your budget? Once again, Splashes to the rescue. Our e-cards can be made out for any specific dollar denomination. You will get the chance to give dad exactly what you can afford to make his day extra special.
Easy to give: Worried that your gift won't make it in time to dad? Not to worry. At Splashes we offer our guests online shopping opportunities. You simply purchase you cards directly from our website. From there we will email you your "virtual gift card" to use or send to someone else (aka Dad) to use for a little online retail shopping. Have an old school 'kinda' dad? Not a problem, he can simply print out the card and bring it into the shop for an actual gift card.
Used for anything: Best of all, giving dad e-cards from our facility gives him access to a comprehensive range of services and products from our catalogue. Your dad will find that it's not about "What can I buy," with us, but more like, "What can't I buy?"
Splashes Cards Show That We Are More Than Just A Carwash
Once dad has officially been "carded", he will have access to a slew of Splashes services. Yes, these cards work with our state-of-the-art hands-free whitewater car wash services. Your dad will be in and out in just minutes and his car will look like new!
However, the e-cards can be used for so much more. No matter what your dad's vehicle needs are, we've got him covered. Would he like a thorough, professional detailing to make the inside of his car or truck look as great at his outside (after his whitewater carwash, of course)? Not a problem. How about paint restoration to cover up some dings and scratches. Sure. What about some customization services such as window tinting, clear bra protection or truck bed liners? Check, check and check. Here at Splashes, we proudly offer a comprehensive range of services sure to make dad know just how special you think he is this Father's Day!
Ready to get your Father's Day shopping done? Click here to learn more about our e-cards!